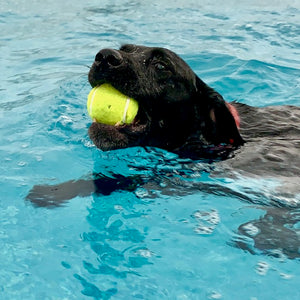 Book one of our peak private swim sessions (Saturday and Sunday 9am to 8pm and Tuesday to Friday 5pm to 8pm) and get your furry friend swimming. Whether it be for fitness, rehabilitation or just a bit of fun it's a great way to enjoy time with your dog or even put a bit of a spark back into some of our older wearier canine friends. Families welcome. Please read our FAQ page. 
*We are seasonal: Open from 1 May to 31 October 
Choose your time slot and ad to cart. You can then select the number of dogs you wish to bring. 
Canine Paradise Field Grove Farm, Elstree Road Elstree, Hertfordshire WD6 3BG
We would suggest that you wear a wet suite or long sleeve t-shirt to help protect you a little from doggie claws.
We also advise you to bring a couple of towels.
Sessions are for you and your furry one to bond and have a good time together.  Fun for everyone!
Please arrive 10 minutes early to ensure you are ready for your booked slot.

30 Minute Swim: Usually 5 mins getting ready and into the pool.  Your dog gets 20 minutes swim time. 5 mins to climb out and get ready to leave.